(this started out as a response to a comment and grew to become its own blog entry; please forgive the self-indulgence of this piece)
Hi, Leigh!
Thanks much for the birthday wishes.
I wish I could say I am taking the whole "40" thing in stride, that I am proudly ready to enter some wonderful wise-woman stage of life, that I'm excited to become an "old woman who wears purple," join the red hat club, and all of that (dear god, I just realized, I really AM now eligible to have lunch with my aunt's red hat club!).
I'm now remembering how, years ago, I asked my grandmother if she felt "wiser" as she was getting older. She laughed heartily and said, "No, honey, I still don't know a damn thing." My mother too has said for years that she is still waiting to "feel like a grownup, let alone a middle aged woman."
That pretty much sums up how I'm feeling. I don't feel much wiser, really. Maybe a bit, in some ways, but definitely still so lost in others, you know? I get it that growth continues until one reaches the grave, so I am not SUPPOSED to feel like I'm THERE yet (because one is never THERE), but I guess I thought that by age forty, I would feel more sure of things, more settled, that old wounds would have healed and been forgotten by now - but I find they are still there and they still require my attention sometimes. One might think that by 40, I would have by now made peace with a childhood that included domestic violence and a kidnapping at age 7 that included promises from my father to me that if my mother found us, he would kill her; put sexual assault well behind me and become confident and sure about my own sexuality, with both boundaries against what I don't want and confidence about what I do want; overcome depression permanently (what Hurricane Katrina and my negligent government did to my beloved New Orleans certainly hasn't helped); have figured out what I really want next as far as my twenty-two year marriage to a dear friend who has also been an unfaithful and therefore hurtful husband; have gotten my legal career launched and settled (when post-Katrina depression has delayed my finishing law school); have gone beyond the volunteer work I've done and really somehow changed the world (so I've worked at women's shelters and done other stuff like that, and yet every day the violence against us continues; I've attended every peace rally around, gotten myself and friends a government file as confirmed by the ACLU, and even slept outside George Bush's ranch in Crawford, Texas, with Cindy Sheehan, yet still the war goes on and on); have some money in savings (especially money of my OWN).
Forty has snuck up on me. I remember when I was a teenager older folks told me that the older you get, the faster time flies. But you still just don't get it until you get older.
I can't believe how quickly these last few years have flown by.
How is it possible I've really been here for forty years? And I'm still not anybody really and I still don't know all that much....
Sigh...maybe that is the point of getting older. If I remember correctly, when I was a teenager and young adult, I thought I knew a hell of a lot. Maybe part of the work of growing older is learning how much you don't know. Well, if that's the agenda, then maybe I AM where I'm supposed to be.
I guess part of the angst about this birthday is that I'm worried it means the ride is closer to the end than the beginning - and I really fucking love the ride. I look over my many, many genealogy charts, the names of all those Cajun and Irish women, most of whom had at least a dozen children and almost all of whom buried at least a few of them, who lived and loved and now exist only in my genealogy charts and in my daughter's DNA, and I think how their lives were as real to them as mine is now to me.
Well, the joke goes, you know why genealogists die with smiles on their faces? Because they know they've filled in another square on the family chart.
At least I still look young, which (pardon my vanity here) suddenly matters to me this birthday for some weird reason. Last week, I told the stepmother of my daughter's friend about my upcoming birthday and she said, "Forty? I never would have guessed! I thought you were my age, and I'm twenty seven" (and I said, "Uh, I've been married for twenty two years, so to be your age, I would have to have gotten married at age five - and I didn't, although that's how it feels sometimes). My husband agreed that I could pass for twenty seven. It makes sense. At sixty, my grandmother hardly looked forty. At eighty, she hardly looked sixty. Now, at ninety, she has only JUST started to look like an old lady.
Grandma at ninety years old: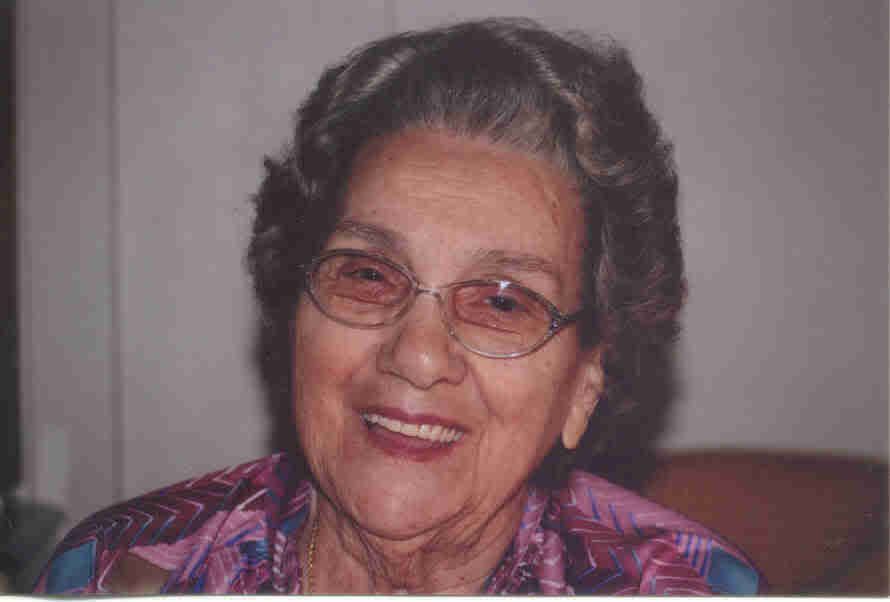 my blog entry on Grandma as an example of "real beauty"

And my mother got carded well into her forties. When I was in my mid-teens and she was in her mid-thirties, we'd go shopping and store clerks would say to my mother, "Oh, how sweet, you took your little sister out for the day." Even now, she doesn't look sixty. When her students learn she has three children - one as old as forty - as well as nine grandchildren - one as old as eighteen - they are shocked. Word spreads quickly among that year's crop of freshmen - "Can you believe it? You know the English teacher, Ms. K, you know who I mean, the flower child one - man, she has grandkids older than we are!"
Looks aside though, I am beginning to feel like a car whose warranty expires and suddenly has a dozen little mechanical problems - constant neck pain, prolapsed uterus, diabetes, fatty liver, Barrett's esophagus and hietal hernia (which means acid reflux and quite an increased risk of getting cancer of the esophagus, for which I have to get a scope check yearly), fillings from childhood that the dentist wants to replace that I can't afford to have done...blah, blah, blah. No one told me I was going to have a bunch of little health problems already. What the hell? Although...well, I should remember to be glad that they are only small problems. It's just the range of them that is surprising me.

So, for this weekend, Mr.Me surprised me with reservations at a New Orleans hotel at which I have always dreamed of staying. We used to drive by it when I was a kid, and I was just in awe. When I was engaged, we booked our wedding reception in their ballroom - although we ended up just having a small wedding instead because we weren't able to save the money we needed for a big wedding. He was in the military, living in the barracks in California, and blowing through all of his salary going out drinking with the guys. On the other hand, I was still in high school, working part-time at K-Mart, and had built up $150 in my little Pelican Homestead savings account (Is Pelican even around anymore? I hate it that Hibernia is now Capitol One, dammit!). So, we ended up not getting married at that hotel, but I've still drooled every time I've passed it over the years. We'll be staying there for two nights - turns out it's a bit more expensive than our usual Motel 6 but really not nearly as expensive as I had always imagined - and going out in the French Quarter and Marigny.
I got crazy and bought an outfit for this weekend that is NOT the kind of thing I normally wear at all - a short plaid pleated skirt and a matching kind of corset looking top (good god, I was supposed to be shopping for the kid when I was in Hot Topic, not for myself!). I emailed friends and family asking if it was ridiculous to wear something really crazy for my fortieth birthday and sent them a link to the outfit online. Without exception, everyone told me to go for it. It is, after all, for wearing to the French Quarter. In that context, it's pretty darn modest.
Yes, this quite possibly makes me a bad radical feminist.
Ah, well, at least I haven't done anything crazier than buy a wild outfit to flirt with feeling ridiculously youthful looking. Some people - ahem - have mid-life crises and have affairs. I would never do anything that involved a third party or hurt anyone just for my ego.
Hopefully, after my birthday, I'll start the process of making peace with middle age. Hopefully, soon, I'll get closer to becoming a wise woman crone who doesn't look in the mirror for those (still nonexistent) wrinkles. And I'll be a better radical feminist for it.
This weekend though, I rebel.
And as for the new outfit, well, this is New Orleans, thank god, so I can always wear it for Mardi Gras and fit right in!