So, Yale University had itself a
sex week
.
There was a presentation by Dr. Ruth, natch.
There were three presentations on "What Do Girls Want" day. First was a talk about female orgasm (no talk about male orgasm though; presumably it's only women's orgasm that requires special trainin' and all). Second was "Pure Romance" givin' away some free sex toys (personally, I have always found cold plastic to be oh-so romantic!). Third was a "Girls' Night Out," with an open bar, and the first 100 women in line could get freebies from the sex toy company. Wow, so that's what Yale women want? Orgasms, sex toys, and getting drunk? I smell a rat - and it has a
penis
. This sounds to me like what
men
want women to want.
Then, on "Seduction" day, there were two events. The first was "Seduction: How to Get the Girl You've Always Wanted" and the second was "Mystery: the Mystery Method, Ladies Want Him, Guys Want to be Him," both from VH-1's "The Pick-up Artist" (which I've never seen, but I assume doesn't have anything to do with pinstriping the quad-cab). Of course, both events promising to instruct in the fine art of seduction were about teaching men how to
get
women. As careful long-time observers of the mating habits of humans within the patriarchy already know, heterosexual sex is something which the male of the species
gets
from the female. "Seduction" is, therefore, mission accomplished, the male getting from the female.
Friday night was a lingerie show, which I assume involved gawking at wimmenz in sheer, skimpy lingerie, but no male gawkees. Attendees were asked to wear "business attire," which makes sense because we've known for a long time that women belong half-naked while men are fully clothed.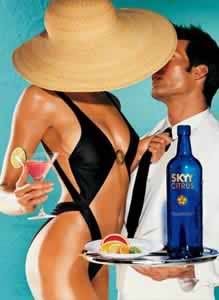 Well, at least the lingerie show was for a good cause, as the proceeds went to AIDS prevention (translation: no need to feel guilty about a cheap display of women hypersexualized and pornified for the male gaze, since it's all for a good cause). No cheap patriarchal objectification here, cranky feminists; move along.
One day a "group product manager" from Trojan condoms was there, giving out condoms and also "vibrating rings" (I don't know what the rings are, frankly, but I'm definitely not gonna dis' free condoms).

There was a "skull and boned" party, which I assume, like ladies' night (above) was another exciting event at which young women were to be served copious amounts of alcohol (that's the "skull" part, as in "out of your") and then possibly fucked while they were too inebriated to give meaningful consent (that's the "boned" part, if you're a sex poz cool kid, and the "rape" part if you're a drag of a radical feminist like I am). Oh, and at the "skull and boned" party, Vivid pornography company was handing out free DVDs. Yeah! Freebies. Porn star and apologist Jenna Jameson tells us most women who start making porn are already victims of abuse, and once they are in the industry, they will likely experience pain, abuse, disrespect, disease, physical and emotional damage, disassociation from their own bodies and sexuality, degradation, greedy and abusive pimps/managers, substance abuse, groping and sexual demands from complete strangers, painful breast implants, plus the knowledge that the electronic records of their treatment are out there for the public's viewing pleasure in perpetuity. Step right up everybody, free samples right here! Don't worry about the ill effects on viewers either. Free DVDs, right here!
There was also a chance to meet the girls from Vivid. There was a contest to see which female Yale academics looked most like possible Vivid girls (presumably that would be in case the whole Ivy League thing doesn't work out).
Oh, yeah, and there was a debate about pornography itself. I know you're relieved to hear it. In the blue corner were Ron Jeremy and a Vivid "girl." In the red corner were...um...well, it looks like two church dudes. Oh, and one lawyer. Yeah! Was it a feminist lawyer like Catherine MacKinnon, who might discuss the civil rights ordinance idea in which women harmed by pornography could sue its manufacturers? Damn. Nope. It was just some "First Amendment" dude, obviously pro-porn.
Where were the feminist voices? Well, I've read over the schedule multiple times, but I just can't find any (geez, it's almost as if radical feminists are completely silenced; oh wait, that is because we are). So, I'm guessing the debate was something like "porn: liberative sex education tool for the masses or Jesus is disappointed when you use your seed for any purposes other than to make a baby within the context of heterosexual marriage." Who asked about women, about how the industry treats the actresses, about what pornography teaches men about women (that "no" means "yes," that all women really want it - hard penis-in-vagina thrust-thrust-thrusting - from all men all the time, that women enjoy pain, that women are stupid and objects and "cum buckets" and whores and here for amusement and to facilitate men's orgasms), and about what that means when men who've watched that stuff then interact with real women at work and at school and in the home and on the street? Who spoke for prostitutes and girlfriends and daughters and wives who have been pressured or even forced to act out what men see in these films? Who spoke for men who have realized too late that pornography has put a thick wall of inhumanity between themselves and the women they have loved, or at least tried to love? Nobody, it would seem. And that was billed as "the great porn debate." Great, eh? Doesn't sound so great to me.
Wait, there is this by Gain Dines. She wasn't at any events though, just got an editorial in the Hartford Courant the week before.
Okay, so, anyway, here's the punchline: Yale was going to show that porn is sex poz and cool, right? A porno flick, right there in the Yale Law School auditorium. It's so mainstream. It's so harmless. It's so...holy shit! The film started running and guess what? It was so hideous, the organizers of the event had to turn it off. Cinemus interruptus, right there in the Yale auditorium! Reports Yale Daily News:
...partway through the showing, graphic rape fantasies began to play onscreen. Rape fantasies, bondage, the piercing of a woman's nipples and the labeling of a woman as a "slut" who "deserved" violent sexual degradation — this was some of the footage played at one of Sex Week's final events.
No kidding. That's what pornography is like? It's as if those cranky feminists actually know what they're talking about (okay, please pardon me while I gloat just a bit; I feel I deserve it, and Gail definitely deserves it, especially because after her editorial ran, she was, predictably enough, called a "fascist," "hypocrit," and "pseudo-feminist" (because real feminists know that "Three in the Seat," "Gag on my Cock" (complete with actual vomiting), "Grudge Fuck," "Use 'em, Abuse 'em, and Lose 'em," "Vivian's Painful Examination," and anything involving Max Hardcore is empowerfulizing and healthy).
As the Yale Daily News article linked above points out, and this is exactly what I was going to say, the event's organizers have apologized for their failure to advance screen the material, but that completely misses the point. The point is that this is what pornography is like. This is what people are watching. And if you're going to be all pro-porn and promote the stuff, this is exactly what you're promoting.
Could it be that other examples of misogyny experienced by the bright young women of Yale about which I've read are in any way related to pornography and its objectification of women - and that all of the above are related to patriarchy and misogyny?

How about this story of a photo circulated of frat pledges standing in front of the Women's Center holding up a sign that said "We Love Yale Sluts."

How about this story about female Yale law graduates finding themselves unemployable because of male classmates posting things about them online - like their alleged participation in gang bangs and things about the men wanting to "grudge fuck" or rape them.

Connect the dots, anyone?